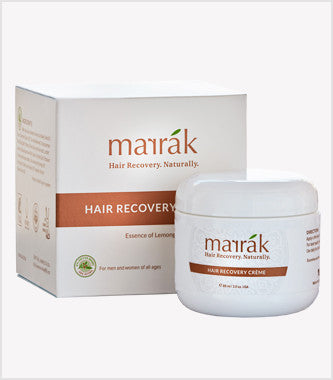 Marrák Hair Recovery Crème
Description: Use for intensive treatment of hair loss and thinning. Whether you have male pattern baldness, hair loss from cancer or alopecia, or thinning, brittle hair, Marrák Hair Recovery Crème can stimulate healthy, long-lasting recovery. As a nourishing treatment for hair and scalp, Marrák Hair Recovery Crème also relieves dandruff, scalp irritation and inflammation.
Ingredients: Water (Aqua Eau), Helianthus Annuus (Sunflower) Seeds Oil (Organic), Ricinus Communis (Castor) Oil (Organic), Cera Alba (Beeswax) (Organic), Butyrospermum Parkii (Shea Butter) (Organic), Mixture-6 Plant Extract (Organic), Lecithin (Organic), Argania Spinosa (Argan) Kernel Oil (Organic), Sodium Chloride, Potassium Sorbate, Citrus Aurantium (Orange Oil) (Organic), Cymbopogon Citratus (Lemon Grass Oil) (Organic), Sesamum Indicum (Sesame seed Oil) (Organic).
Directions: Apply a thin layer of crème to areas of scalp in need of treatment and massage crème into the scalp. For best results, leave crème on scalp for several hours or overnight. Use daily for a period of 12 weeks. Initial results may be seen as early as 5-6 weeks. Improvement in hair's texture and shine and condition of scalp can be seen after just a few uses. Individual results may vary. (Be advised that the crème may stain clothing or linens with prolonged exposure. We recommend the use of a shower cap or the placement of a towel or cloth over pillow case.)
Marrák Hair Recovery Crème provides the following benefits for hair and scalp:
• Hair loss recovery (growth)
• Itch relief
• Dandruff remedy
• Scalp treatment
• Ease inflammation
• Keratin and collagen treatment
Our Marrák Hair Recovery Crème is:
• Alcohol free
• Glycerin free
• Sulfate free
• Paraben free
• Triclosan free
• PEG free
• Petroleum free
• Phthalate free
• Silicone free
• GMO free
• Chemical free
• Artificial colors free
• Not tested on animals
• Biodegradable
• Made with Natural Preservatives (0.3%)
2.5% of profits donated to charity!
---
We Also Recommend