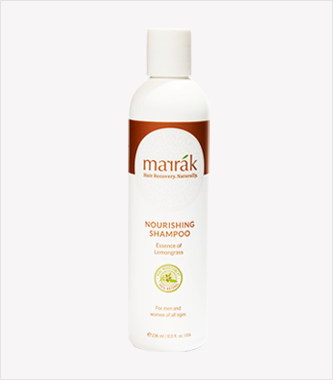 Marrák Nourishing Shampoo
Description: Marrák Nourishing Shampoo can be used as a complement to Marrák Hair Recovery Crème or can be used separately by anyone in search of smoother, shinier, fuller, healthier hair. Marrák's formula is free of sulfates and other harmful chemicals found in most conventional shampoos that strip hair of its natural oils and can even contribute to hair loss. Unlike conventional conditioners that coat hair to give it a shinier, smoother appearance, our shampoo's ingredients condition and nourish hair naturally, improving the health and quality of the hair. Marrák Nourishing Shampoo also helps relieve dandruff, scalp irritation, and inflammation.
Ingredients: Water (Aqua,eau), Sapindus Mukorossi Fruit Extract, Decyl Glucoside, Argania Spinosa (Argan) Kernel Oil (Organic), Sodium Chloride, Xanthan Gum, Mixture-6 Plant Extract (organic), Potassium Sorbate, Origanum Vulgare (Oregano) Leaf Extract (Organic), Citrus Aurantium (Orange Oil) (Organic), Cymbopogon Citratus (Lemon Grass Oil) (Organic), Helianthus Annuus (Sunflower) Seeds Oil (Organic).
Directions: Apply shampoo, massage gently, and rinse. For optimal hair recovery, use with Marrák Hair Recovery Crème.
Marrák Nourishing Shampoo provides the following benefits for hair and scalp:
• Hair loss recovery (growth)
• Itch relief
• Dandruff remedy
• Scalp treatment
• Ease inflammation
• Keratin and collagen treatment
Marrák Nourishing Shampoo is:
• Alcohol free
• Glycerin free
• Sulfate free
• Paraben free
• Triclosan free
• PEG free
• Petroleum free
• Phthalate free
• Silicone free
• GMO free
• Vegan
• Artificial colors free
• Not tested on animals
• Biodegradable
• Made with Natural Preservatives (0.3%)
2.5% of profits donated to charity!
---
We Also Recommend